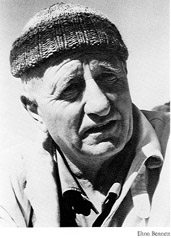 Elton Bennett (1910-1974) was a lifelong native of Grays Harbor. One look at his luminous silkscreen art work is enough to inform the viewer of his deep and enduring love for everything that Grays Harbor has to offer- our grey days, the abundance of rainfall, the brisk scent of salt air, the rivers, beaches, and waterways. My memories of my father always conjure the image of an artist reaching for sketch book and pen, a delighted expression of coming upon yet another scene he needed to record. Weekends were spent as a family exploring places which would later appear in a finished print. The early years were a difficult time, as he struggled to establish himself as an artist. He had no desire to leave home in order to fit in with the Seattle art community. The inspiration for his art was always here, and here he would stay, even if it meant putting his talent to use screening labels for cans of clam chowder. Which he did! There were also bumper stickers for the Westport Salmon Derby, menu covers for Sourdough Lils, motel brochures, and paper placemats.
During the summer we would all pile into the car and head for the Westport docks so that we could be waiting when the charter boats came into dock. The salmon were tossed out of the boats and we would ooh & aah over the enormous size of fish while my father sat on an up-ended 5 gallon bucket sketching the entire scene. Other than the scent of fresh baked bread, no aroma brings such happiness to my senses as the creosote , diesel and fishy smells of a dock. Strange, but true. A day in Westport always included a stop at Sourdough Lils, then a stroll to the large working boats in the basin (more sketching), and a picnic in front of the lighthouse. It seemed to me as a child that my father must know everyone in Westport, because they all greeted him. Some would ask about his mother, some would comment on the menu cover at their favorite greasy spoon (my mothers description), others just exchanging news about friends. One of the highlights of the year was the annual Driftwood Show in Grayland. My father was a participant for as long as I remember, and he would prepare for the event by creating a special small silkscreen. He would bring this screen, along with his oil inks, paper and squeegee, setting up a demonstration of the silkscreen process. This proved to be a great success, and the small black and white prints were eagerly anticipated by his ever increasing customers. My father would encourage children to accept one of these free samples, and he made quite a game of the gift. His knowledge of human nature had proven to him that people don't often appreciate something which comes to them too easily. On the other hand, he wanted to make these small prints available to all. His solution was to make a request which was simple and cheap- for little boys, he would request a bow. Little girls were asked to curtsy( when asked why, he would tell them that you never knew, you might be introduced some day to the Queen of England, and you would need to have these social skills). Sometimes he put a jar lid on the table and asked for a dime. If the ladies auxiliary bake sale was having a slow day, he'd ask for a cookie from their booth. One year we had so many cookies that my mother didn't have to bake for weeks. If an adult was looking grumpy, he'd ask for a smile. When the jar lid of dimes began to overflow, he'd gather up the money and go to someone else's booth to make a purchase. Having endured many shows where his work wasn't selling well, he made a point of buying from a fellow artisan who wasn't having a good show.
The treasures which he acquired from them were welcome additions to my mothers Christmas gift stash. There was a particularly delightful gift shop in Grayland, owned by Pauline Stover. Pauline was a great supporter of my fathers and sold so many of his prints. I met a lady at a show who told me about a little vacation which she and her children made to Grayland in 1964. She saw the Elton Bennett prints in Paulines' store and fell in love with them. Her children were equally impressed, even at their very young ages. They held a family conference. The had enough money to stay in a motel for 4 nights plus the extra needed to purchase 1 print at $12.00. However- they all loved 2 of the prints and wanted to buy both. They decided that buying 2 prints was more important than staying in a motel, so they all slept in the car on the 4th night. I wish my father could have heard that story. His art work will be cherished forever by that family, and they made a sacrifice to attain that 2nd print. What greater compliment could any artist wish for?
The Olympians hiking club was an important part of our family life. In fact, my parents met on an Olympians hike to Mt. Eleanor, and I have photos taken by my god-father, Helge Erickson, of that momentous day. My mother is flirting coquetishly, and my father is leaning over to her with a roguish smile. Many Saturday hikes took us to the south beaches, and so many of the silkscreen prints which are so loved today were direct results of those outings. One of the Olympians owned a cabin at Washaway beach, so we would head there for cookouts and bathroom privileges. Through the years the ocean battered the beach away, and the owners tried valiantly to save their place. They moved it once, hoping that the erosion would halt. It became obvious that the cabin was doomed, so one late autumn day we all arrived for the final beach party at Washaway beach. It was a sad day, and by spring the cabin had been undermined by sand & water. The following winter it collapsed.
Most of our clam digging took place on the north beach, as the driving distance from Hoquiam was shorter, but those screened labels for homemade calm chowder were requested by the Westport Cannery. At that time there were several canneries in Grays Harbor where you could bring your own food in and can it yourself. You would be assigned a work table and provided with what size cans you wanted, and then left to fill the cans up, put them on a tray, and send them in for processing. I don't know how much extra was charged for the Elton Bennett clam chowder label, and I doubt that any (except the one which I have) still exist. I chuckle at the irony of Andy Warhol earning fame & fortune by painting a Campbells Tomato Soup can. He certainly wouldn't have lowered himself to creating the label itself! 
My memories of my father are joyful and plentiful. My parents died when I was 20 years old, and I will miss them every day of my life. I count myself as blessed to have had them for that all too short of a time. I believe that my father was the most talented artist that the Pacific Northwest has ever known, and it brings me great happiness to share his art work with others and to know that Elton Bennett silkscreen prints are treasured by so many people.
--------------------
Related link: My favorite news story -